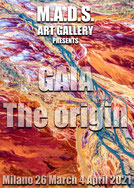 M.A.D.S. GALLERIA MILANO - ITALY
Ausstellung
GAIA - THE ORIGIN
26.03.2021 - 04.04.2021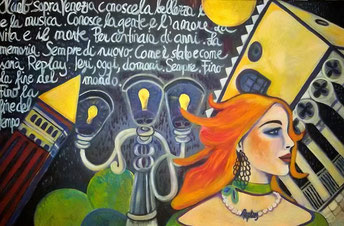 PALAZZO ALBRIZZI - CAPELLO  -  VENEDIG
CANAREGGIO 4118   -   I T A L Y
Die INTERNATIONALE KUNSTMESSE VENEDIG, organisiert von der IT´S LIQUID GROUP in Zusammenarbeit mit Venice Events, findet vom 23. Juli bis 21. August 2020 im PALAZZO ALBRIZZI-CAPELLO und in anderen renommierten Orten und historischen Gebäuden statt.
Die INTERNATIONALE KUNSTMESSE VENEDIG ist eine Messe für zeitgenössische Kunst, die kollektive und Soloprojekte führender und aufstrebender internationaler Künstler präsentiert. Die 12. Ausgabe wird ein Forum für den direkten Austausch von Ideen und Kontakten zwischen Sammlern, Künstlern, Fotografen, Designern und Kunstschaffenden darstellen. Die Kunstmesse zeigt Gemälde, Skulpturen, Fotografiekunst, Installationen, Videokunst und Live-Performance. 
https://mail.a1.net/webmail/redirect?u=https%3A%2F%2Fwww.facebook.com%2Fmedia%2Fset%2F%3Fvanity%3Ditsliquidgroup%26set%3Da.4229998480403964
K R E T A E V E N T   -   KRETA   -   G R E E C E
Villas & Hotels Exhibition Chania 2020
Mai - September 2020
Permanent exhibition of 5 months at several luxurious Villas and Hotels. Starting from May 2020 until September 2020. Each of the 10 participating artist can place 1-2 artworks at each villa. 
S H I B U J A    S T A T I O N  E X I H I B I T I O N   -   T O K Y O
Third Edition from 14. - 20.09.2020
Contemporary Art Station, based in London and Tokyo, the platform that facilitates both emerging and established artists to display their works in public space. We are a company designed to showcase the work and value offered by some of the best artists in the world. We exhibit the works of selected artists in curated exhibitions, and at the same time we are also engaged in big-scale audience artist promotion. Limited to 40 Artists.
https://www.contemporaryartstation.com/tokyo-september-2020
ICM GROUP LIMITED - London - UK
 _________________________________________________________________________________
W O R L D   A R T    W E E K
GLOBAL  ART  EVENT  from 7. - 15.11.2020
Artists from 20 countries around the world are already taking part in World Art Week. Participants include Austria, Brazil, Chile, Côte d'Ivoire, Hungary, Lithuania, Singapore and Switzerland. Interest has also been shown by museums and artists from many other countries. World Art Week is on its way to become a truly global event.
https://worldartweek.com/participants/ 
ART WEEK FOUNDATION NETHERLANDS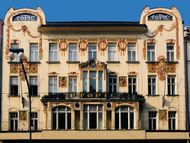 GALERIE IM TOPIC SALON  -  PRAG  -  TSCHECHISCHE REPUBLIK
GRUPPENAUSSTELLUNG
*WE CONTEMPORARY* , 5. Edition
5. bis 7. Dezember 2019
DOLOMITENBANK GALERIE LIENZ - AUSTRIA
EINZELAUSSTELLUNG
8. August 2019 Vernissage, Dauer der Ausstellung bis Ende Oktober 2019
SOMMERAUSSTELLUNG GALERIE ARTINNOVATION INNSBRUCK - AUSTRIA
GRUPPENAUSSTELLUNG 
26.07. bis 02.09.2019
GALLERIA ARTE BORGO - ROM - ITALY
GRUPPENAUSSTELLUNG MIT DER GALERIE ARTINNOVATION INNSBRUCK 
11. bis 18.05.2019
WELLNESSHOTEL VILLA BAD GLEICHENBERG - AUSTRIA
SOLOAUSTELLUNG 
28.04. bis 31.08.2019
SCHLOSS FREIBERG - STEIERMARK - AUSTRIA 
GRUPPENAUSSTELLUNG
A P R I L F E S T I V A L   vom 26. bis 28. April 2019
Vernissage 26. April um 19 Uhr.
PARIS EXPO - PORTE DE VERSAILLES - FRANCE
GRUPPENAUSSTELLUNG MIT DER GALERIE NINA TORRES FINE ART - MIAMIPAVILLION 511. bis 14.04.2019  
OPEN DOORS   -   ATELIER  DOMENIG - AUSTRIA
ADVENTKALENDER AN DER LIEBBURG - LIENZ -AUSTRIA
ARTINNOVATION GALERIE - INNSBRUCK - AUSTRIA
WOMAN´S ESSENCE SHOW - MADRID - SPAIN
ARTBOX:PROJECT- NEW YORK - USA
FAHNEN ON TOUR - WANDERAUSSTELLUNG - AUSTRIA & SLOWENIA
ARTOUR GALLERY BRÜSSEL - BELGIUM
4. ENTER INTO ART - INTERNATIONAL  INSTALLATIONS 2018 - GERMANY
22. ART INNSBRUCK - AUSTRIA
___________________________________________________________________________
ATELIER  DOMENIG - DEBANT - AUSTRIA
ARTOUR GALLERY BRÜSSEL - BELGIUM
ADELINDA ALLEGRETTI STUDIO & GALLERY - GUALDO TADINO (PG) - ITALY

RAIFFEISENBANK MATREI - AUSTRIA
GALERIE ARTINNOVATION - INNSBRUCK - AUSTRIA
ANNUAL DUTCH ART FAIR - AMSTERDAM - NETHERLANDS
HOTEL KÄRNTNERHOF & GALERIE POLIZEIWACHE - MALLNITZ - AUSTRIA
ARTBOX PROJECTS - BASEL - SWITZERLAND

PASQUA IN ARTE - ART TIME GALLERY  UDINE  -  ITALY
ADVENTAUSSTELLUNG   -   ATELIER  DOMENIG - AUSTRIA
ARTBOX PROJECTS - MIAMI - USA
BIENNALE  RIVIERA  DELLA  BRENTA  -  MIRA   -   ITALY
GALERIE   KITZART  KITZBÜHEL   -   AUSTRIA
FOUR SEASONS HOTEL RITZ  LISSABON   -   PORTUGAL
MAREMM ART EXPO 2015   SORANO   -   ITALY
GALERIE ART NOU MILLENNI   BARCELONA  -  SPAIN
ADVENTAUSSTELLUNG  -  ATELIER  DOMENIG - AUSTRIA

ART TOUR INTERNATIONAL at the RED DOT ART FAIR  MIAMI - USA
ART & BEYOND - USA
USIA MODERN - UK
ADVENTAUSSTELLUNG   -   ATELIER  DOMENIG - AUSTRIA

SHOW DE BOLA - RIO & SAO PAULO - BRAZIL
CARROUSEL DU LOUVRE  - PARIS - FRANCE

INTERNATIONAL BIENNALE ARTISTS - MIAMI - USA
L´AGOSTINIANA GALLERY - ROMA - ITALY

WARD-NASSE GALLERY - NEW YORK - USA

GALLERY STUDIO JELMONI - PIACENZA - ITALY

CONTEMPORARY VISIONS - FLORENCE - ITALY

GALLERIA WIKIARTE - BOLOGNA - ITALY

MOSTRA EMPATIA - SALERNO - ITALY

ATELIER DOMENIG - AUSTRIA

SALZBURGER KUNSTVEREIN - AUSTRIA

LIEBBURG LIENZ - AUSTRIA

ART PROJECT 2013 SAN DONÀ DI PIAVE - VENEZIA - ITALY

GALERIE BÖHNER MANNHEIM - GERMANY
Kritik von Kunsthistoriker Herrn Dr. Helmut Orpel
Das Thema FRAU spielt bei der Österreicherin GABI DOMENIG eine zentrale Rolle. Dies sind vor allem besonders STARKE FRAUEN wie die mexikanische Malerin FRIDA KAHLO, die hier in eine geradezu exotische Farbenpracht eingebettet ist. Die Malweise, die nicht nur hier, sondern auch bei ihren anderen Frauenportraits zum Ausdruck kommt, erinnert auch durch ihre optimistische Leuchtkraft an die Palette der Mexikanerin, die damit der Strahlkraft des Lebens huldigte.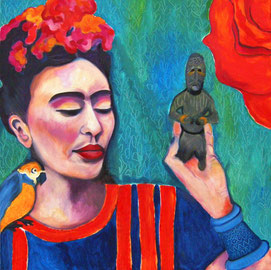 FRIDA INSPIRED.
Hommage an meine Lieblingsmalerin FRIDA KAHLO
Gabi Domenig.
Acryl auf Leinwand.
80x80x2cm.
2011.
FRIDA PORTRAITS
Inspiration war der FILM FRIDA mit der fantastischen  Salma Hayek in der Hauptrolle!
AAF MILANO - ITALY
ART INNSBRUCK - AUSTRIA
ARTE GENOVA - ITALY
ART EXPO VENEZIA - ITALY
PARALLAX ART FAIR LONDON - UK
GALERIE MARZIART HAMBURG - GERMANY
HYPO ALPE ADRIA UDINE - ITALY
PARALLAX ART FAIR NEW YORK - USA
ADVENTAUSSTELLUNG - ATELIER DOMENIG - AUSTRIA
EAGLE GALLERY BERLIN - BERLIN - GERMANY
ART TIME VENEZIA 2011 - ITALY

BAGL AFFAIRS BERLIN - GERMANY
GALERIE BERTRAND KASS INSSBRUCK - AUSTRIA

ATELIER DOMENIG - AUSTRIA

AKZENTA GRAZ - AUSTRIA
KUNSTHAUS RONDULA - AUSTRIA

1999 BANK AUSTRIA LIENZ
2000 STÄDTISCHE GALERIE LIENZ
2000 ADVENTKALENDER LIEBBURG  LIENZ
2001 KUNSTHAUS RONDULA ISELSBERG LIENZ
2002 RAIFFEISENBANK MAYRHOFEN TIROL
2002 KUNSTMESSE SALZBURG
2004 PAVILLON DU JOSEPHINE STRASSBURG - FRANKREICH
2004 GALERIE KLEINER PRINZ - BADEN-BADEN - DEUTSCHLAND
2007 MALERWINKEL RATTENBERG - TIROL
2010 KUNSTHAUS RONDULA  ISELSBERG LIENZ